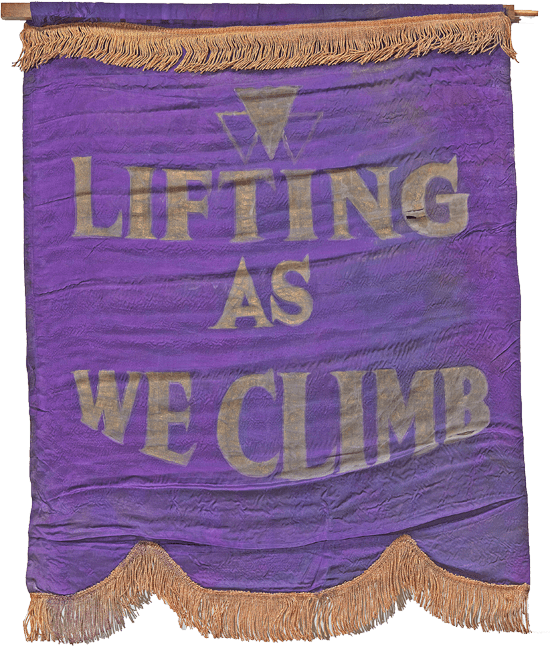 Black Suffrage Leaders Fought for More Than the Right to Vote
African-American suffragists were not only exceptional women demanding the right to vote but also continued the struggle for racial equality at the same time. As activists for the 19th Amendment they were told to observe racial seggregation during suffrage marches and their considerable contributions were often minimized.1
Still, regardless of the opposition they faced, these strong women stood tall and became key figures in civil liberties and justice movements. They were former slaves, writers, poets, journalists, teachers, and doctors. Pushed out from the National Women's Suffrage Association (NWSA) because of their race, they formed the National Association of Colored Women in 1896 with Mary Church Terrell at the helm and other heroines such as Harriet Tubman, Frances E. W. Harper and Ida B. Wells as founding members.2-4
Even after the passage of the 19th Amendment, the struggle for black civil rights was far from over. Segregation and Jim Crow laws suppressed the colored vote until the passage of the Voting Rights Act (VRA) of 1965. However, in 2013 the Supreme Court significantly weakened the VRA in Shelby County v. Holder by eliminating protections against discriminatory voting changes.5 These changes led to an onslaught of voter suppression tactics including discriminatory voter ID laws, registration restrictions, voter purges, felony disenfranchisement, and gerrymandering of voting districts.6
The League of Women Voters, in coalition with over 200 other national organizations, successfully demanded that congress support the Voting Rights Advancement Act in December 2019, which would update and restore the protections of the Voting Rights Act of 1965.7 This bill will now move to the Senate. Please contact your senators in support of the bill.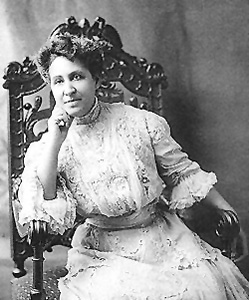 Mary's parents were former slaves, but her father became the first African-American millionaire in the South after he began to invest in real estate in Memphis, while her mother was the first African American woman to own and manage a hair salon. She earned a master's degree in Education from Oberlin College in 1888 and became a teacher, writer, and journalist.
After the lynching of her friend, Thomas Moss in 1892, Mary began to campaign with Ida B. Wells for racial equality and women's suffrage. Her motto "Lifting as we climb" became the guiding words for the National Association of Colored Women (NACW), which she helped found. She also was a founding member of the National Association for the Advancement of Colored People, Colored Women's League of Washington, the first president of the National Association of Colored Women, later co-founded the National Association of University Women and became president of the Women's Republican League. Even in old age, she protested and successfully sued against segregation at restaurants in Washington, D.C.
---
Michals, D. "Mary Church Terrell." National Women's History Museum. National Women's History Museum, 2017. Retrieved from https://www.womenshistory.org/education-resources/biographies/mary-church-terrell
Smith, J.C.,ed., "Robert Reed Church Sr.", in Notable Black American Men, 1 (Detroit: Gale Research, 1999), 202.
McCluskey, A.T. "Setting the Standard: Mary Church Terrell's Last Campaign for Social Justice." Black Scholar, vol. 29, no. 2/3, Summer 1999, p. 47. EBSCOhost, doi:10.1080/00064246.1999.11430962.
from Sumner County, Tennessee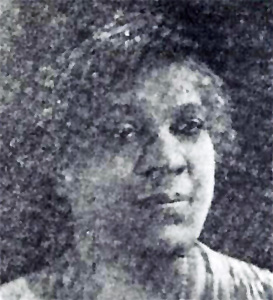 Mattie was the daughter of an African Methodist Episcopal minister and graduated from Meharry Medical College in 1906 as one of Tennessee's first African-American female physicians.
As a feminist and social activist, she founded the Woman's Connectional Missionary Council and worked closely with white Methodist women in building community services through the Bethlehem House settlement. Mattie is believed to have initiated the biracial alliance that thus formed in Nashville and that became critical in the Women's suffrage movement.
Mattie was appointed "state Negro organizer" alongside Juno Frankie Pierce as "Secretary of colored suffrage work" by the Tennessee League of Women Voters. Both Mattie and Juno registered a remarkable 2.500 African American female voters in Nashville in 1919.
---
Smith, J.C. (1992). Notable Black American Women. VNR AG. pp. 125–128. ISBN 9780810391772.
Aaseng, N. (2014). African-American Religious Leaders: A-Z of African Americans. Infobase Publishing. p. 44. ISBN 9781438107813.
Goodstein, A. (1998). A Rare Alliance: African American and White Women in the Tennessee Elections of 1919 and 1920. The Journal of Southern History, 64(2), 219-246. doi:10.2307/2587945
from Nashville, Tennessee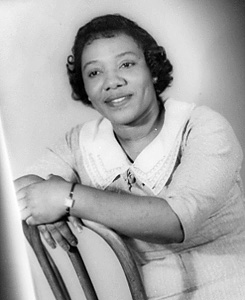 Born to a house slave and a freedman, Juno grew up to be a teacher and suffragist. She became president of the Negro Women's Reconstruction League, was the founder of the Nashville Federation of Colored Women's Clubs, and member of the first Committee of Management of the Blue Triangle League of the YWCA.
Juno was later asked to address the first meeting of the newly established League of Women Voters of Tennessee. In working closely with the League, she asked of the white women what they had asked of the men: "We are asking only one thing–a square deal. We want recognition in all forms of this government. We want a state vocational school and a child welfare department of the state, and more room in state schools." Together with Dr. Mattie Coleman, she rallied for the establishment of the Tennessee Vocational School for Colored Girls, which became part of the legislative agenda of the Tennessee League of Women Voters. Juno became the first superintendent of that school, serving for eighteen year and was succeeded by Dr. Mattie Coleman.
In 2019 Nashville opened Frankie Pierce Park to honor her achievements.
---
Yellin, C.L.; Sherman, J. (2016). The Perfect 36 : Tennessee Delivers Woman Suffrage (Second ed.). Memphis, Tennessee: Vote 70 Press. ISBN 9780974245652. OCLC 1002855678
Bucy, C.S. (2017). Juno Frankie Pierce. Tennessee Historical Society. Retrieved from https://tennesseeencyclopedia.net/entries/juno-frankie-pierce/
Goodstein, A. (1998). A Rare Alliance: African American and White Women in the Tennessee Elections of 1919 and 1920. The Journal of Southern History, 64(2), 219-246. doi:10.2307/2587945
"Wall, chilern, whar dar is so much racket dar must be somethin' out o' kilter. I tink dat 'twixt de niggers of de Souf and de womin at de Norf, all talkin' 'bout rights, de white men will be in a fix pretty soon. But what's all dis here talkin' 'bout?
"Dat man ober dar say dat womin needs to be helped into carriages, and lifted ober ditches, and to hab de best place everywhar. Nobody eber helps me into carriages, or ober mud-puddles, or gibs me any best place!" And raising herself to her full height, and her voice to a pitch like rolling thunder, she asked. "And a'n't I a woman? Look at me! Look at my arm! (and she bared her right arm to the shoulder, showing her tremendous muscular power). I have ploughed, and planted, and gathered into barns, and no man could head me! And a'n't I a woman? I could work as much and eat as much as a man—when I could get it—and bear de lash as well! And a'n't, I a woman? I have borne thirteen chilern, and seen 'em mos' all sold off to slavery, and when I cried out with my mother's grief, none but Jesus heard me! And a'n't I a woman?
"Den dey talks 'bout dis ting in de head; what dis dey call it?" ("Intellect," whispered some one near.) "Dat's it, honey. What's dat got to do wid womin's rights or nigger's rights? If my cup won't hold but a pint, and yourn holds a quart, wouldn't ye be mean not to let me have my little half-measure full?" And she pointed her significant finger, and sent a keen glance at the minister who had made the argument. The cheering was long and loud.
"Den dat little man in black dar, he say women can't have as much rights as men, 'cause Christ wan't a woman! Whar did your Christ come from?" Rolling thunder couldn't have stilled that crowd, as did those deep, wonderful tones, as she stood there with outstretched arms and eyes of fire. Raising her voice still louder, she repeated, "Whar did your Christ come from? From God and a woman! Man had nothin' to do wid Him." Oh, what a rebuke that was to that little man.
Turning again to another objector, she took up the defense of Mother Eve. I can not follow her through it all. It was pointed, and witty, and solemn; eliciting at almost every sentence deafening applause; and she ended by asserting: "If de fust woman God ever made was strong enough to turn de world upside down all alone, dese women togedder (and she glanced her eye over the platform) ought to be able to turn it back, and get it right side up again! And now dey is asking to do it, de men better let 'em." Long-continued cheering greeted this. "'Bleeged to ye for hearin' on me, and now ole Sojourner han't got nothin' more to say."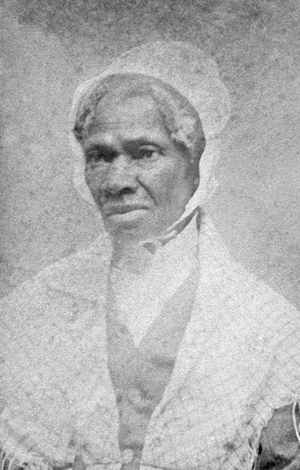 Sojourner Truth's Speech at the Women's Convention in Ohio in 1851 as reported by Frances Dana Barker Gage.8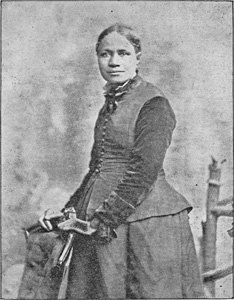 Frances was born free; however, she was orphaned at age 3 and raised by her uncle, a minister and civil rights activist, and aunt. She grew up to become a writer, poet, teacher, abolitionist, suffragist, and public speaker and used part of the money she earned to support the Underground Railroad.
100 years before Rosa Parks she refused to ride the trolley in Philadelphia in the "colored section".
After the Civil War Frances taught newly freed black people in the South, co-founded the American Woman Suffrage Association, and supported freedmen in Alabama to get land during the Reconstruction period.
In 1982 she published her novel "Iola Leroy", one of the first novels published by an African American woman, centered around issues of race, citizenship, gender, and community.
Frances worked with Mary Church Terrell in the National Association of Colored Women and became the organization's vice president in 1897.
In her poem "Bury Me in a Free Land" Frances writes: "I ask no monument, proud and high to arrest the gaze of the passers-by; all that my yearning spirit craves is bury me not in a land of slaves." She died at age 86 and was buried in 1911 in Collingdale, Pennsylvania.
from Holy Springs, Mississippi
Ida was born into slavery during the civil war and at the age of 16 lost both of her parents and one of her brothers to yellow fever leaving her to become a teacher so she could raise her surviving siblings.
After moving to Memphis, Tennessee, she sued a train company, because she was forcefully removed from a first-class train car despite having had a ticket. Ida also began to investigate lynching cases after one of her close friends was killed. As an investigate journalist and newspaper owner she published her influential research that included 14 pages of statistics titled "Southern Horrors: Lynch Law in All Its Phases" and "The Red Record". She outlined how lynchings were used to intimidate and oppress, because whites felt economically threatened by African Americans' acquisition of wealth and property. However, for daring to speak out her own life was endangered and her newspaper office destroyed. She was forced to move out of the South. Still, after marrying a lawyer, Ida continued to spread the word about the barbaric lynchings, even while travelling abroad. Her articles were also published across the United States and abroad.
As a black woman and suffragist Ida co-founded the National Association of Colored Women's Club working together with Harriet Tubman, Mary Church Terrell, and others. She also organized the Alpha Suffrage Club in Chicago that helped black women engage in civic matters and helped elect the first African American alderman.
from Dorchester County, Maryland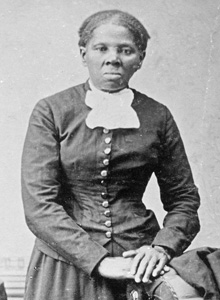 Harriet was born into slavery, oftentimes beaten and whipped, and at young age suffered a traumatic brain injury from an iron weight thrown by her "owner". This caused her to frequently experience pain, hypersomnia, as well as visions and vivid dreams that she interpreted as premonitions from God. At the age of 27 she tried to escape for the second time – successfully. She travelled along the Underground Railroad by herself at night to avoid slave catchers. She eventually reached Pennsylvania.
Using the resources of the Underground Railroad and carrying a revolver she returned to Maryland several times facing tremendous danger. Altogether, Harriet rescued more than 70 people from slavery and gave instructions on escape routes to approximately 60 others. Due to her efforts she was nicknamed "Moses".
During the Civil War Harried joined the Union Army and became a scout and the first woman to lead an armed assault during the war. She guided steamboats that would signal to slaves along the Combahee River for a chance to escape. During these raids she rescued approximately 750 people.
Later in life Harriet was a strong supporter of the women's suffrage movement working alongside Susan B. Anthony and Emily Howland. She traveled around the country speaking of her actions during the Civil War and the sacrifices of other women throughout history to rally support for women's suffrage.
In her late 70s Harriet underwent brain surgery at Massachusetts General Hospital – without anesthesia. She chose to bite down on a bullet instead, which is what she knew from the Civil War, when soldier's limbs were amputated.
---
Oertel K.T. "Harriet Tubman (Routledge Historical Americans)" Routledge 2015. ISBN 978-0415825122
Clinton, C. "Harriet Tubman: The Road to Freedom" Back Bay Books 2005. ISBN 978-0316155946
Larson, K.C. "Bound for the Promised Land: Harriet Tubman: Portrait of an American Hero" One World 2004. ISBN 978-0345456281
The Nashville Alliance
During a time when brutal assaults and horrific lynchings were common in the South, women of color and white women formed a rare alliance in 1919 around the suffrage movement and in support for social services for African-American communities. This alliance was also rare, because many Southern suffragists were not in support of black women's voting rights, even though they sought the vote for themselves.
Nashville had a large African American middle class thanks to the presence of Fisk University, Walden University, and Meharry Medical Collage. Dr. Mattie Coleman, Juno Frankie Pierce and others founded many women's clubs and set the foundation of biracial collaborations in Nashville by working with white women from the Methodist Episcopal Church South. Dr. Coleman also attended the white Methodist Women's Council in 1918 and was invited to attend white suffrage meetings.
Catherine Talty Kenny, chair of the League of Women Voters of Tennessee (LWVTN), worked closely in alliance with Dr. Coleman and Mrs. Pierce and in support of the importance of the black female vote. Pierce was invited to address the first meeting of the LWVTN. With the joint forces within the League of Women Voters of Tennessee over 1,300 black women and 6,000 women in total registered to vote in the local elections in Nashville alone in 1919.
---
Goodstein, Anita Shafer. "A Rare Alliance: African American and White Women in the Tennessee Elections of 1919 and 1920." The Journal of Southern History, vol. 64, no. 2, 1998, pp. 219–246. JSTOR, www.jstor.org/stable/2587945. Accessed 5 Mar. 2020.
Download the full feature issue of The Crisis in support of Votes for Women published by the National Association for the Advancement of Colored People in August 1915 in New York.
Please also note that at the time of publishing in 1915, the swastika (used here to divide sections of the article) was a common printer's stock symbol with no connection to anti-Semitism.
For an extended list of high-profile suffragists of color, please visit the Turning Point's Suffragist Memorial website.
National Park Service, Between Two Worlds: Black Women and the Fight for Voting Rights, Series: Suffrage in America: The 15th and 19th Amendments, Jan 14 2020. Retrieved from https://www.nps.gov/articles/black-women-and-the-fight-for-voting-rights.htm
Buechler, Steven M. (1990). Women's Movement in United States: Woman Suffrage, Equal Rights and Beyond. Rutgers University Press.
Mezey, Susan Gluck (1997). "The Evolution of American Feminism". The Review of Politics. 59 (4): 948–949. doi:10.1017/s0034670500028461. JSTOR 1408321.
Terborg-Penn, Rosalyn (2004). "Discontented black feminists: prelude and postscript to the passage of the nineteenth amendment". In Bobo, J. (ed.). The Black Studies Reader. New York: Routledge. pp. 65–78.
Brennan Center for Justice (2018). "How We Can Restore the Voting Rights Act". Retrieved from https://www.brennancenter.org/our-work/research-reports/how-we-can-restore-voting-rights-act
Rafei, Leila. American Civil Liberties Union (February 3, 2020). "Block the Vote: Voter Supression 2020". Retrieved from https://www.aclu.org/news/civil-liberties/block-the-vote-voter-suppression-in-2020/
League of Women Voters (December 4, 2019). "League Urges Congress to Vote Yes for H.R. 4, Voting Rights Advancement Act". Retrieved from https://www.lwv.org/fighting-voter-suppression/league-urges-congress-vote-yes-hr-4-voting-rights-advancement-act
History of Woman Suffrage. Rochester, Anthony. 1887–1902. p. 116. Retrieved from https://archive.org/details/historyofwomansu01stanuoft/page/n12/mode/2up