The Molly Todd Award
Mary "Molly" Hart Todd was a powerful and effective leader not afraid to push the boundaries citizen advocacy in public policy. She was a frequent monitor at the state legislature on League issues (e.g., income tax, adequate school funding, water control laws, repeal of the death penalty), a delegate to the 1970 Tennessee Constitutional Convention, and held leadership positions in numerous organizations. She was also a plaintiff in the Baker v. Carr case that came before the Supreme Court regarding redistricting in 1962, which led to the "one person, one vote" standard for legislative reapportionment.
In 1995, the Nashville League established the annual Molly Todd Award. It is given in recognition of a member of the League who has followed in Molly Todd's footsteps, providing leadership and service to both the League and the voters of Nashville. And it identifies someone who shows the same bold spirit and optimism that Molly always demonstrated.
2019 | Debby Gould
2018 | Madeline and Tony Garr
2017 | Hazel Thornton
2016 | Barbara Gay
2015 | Jo Singer
2014 | Diane DiIanni
2013 | Barbara Devaney
2012 | Pat Post
2011 | Sue Bredensteiner
2010 | Karen Weeks
2009 | Margie Parsley
2008 | Karen Edwards
2007 | Phil Schoggen
2006 | Mary Frances Lyle
2005 | Marian Ott
2004 | Berdelle Campbell
2003 | Dikkie Schoggen
2002 | JoAnn Bennett
2001 | Silvine Hudson
2000 | Brenda Wynn
1999 | Susan Gutow
1998 | Silvine Hudson
1997 | Sally Levine
1996 | Carole Bucy
1995 | Jane Eskind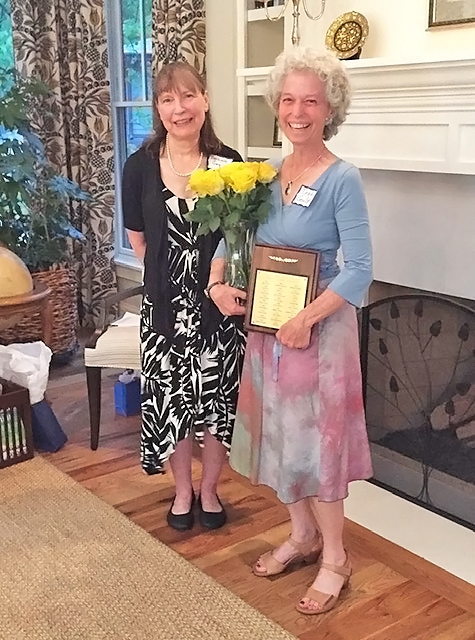 LWVN President Barbara Gay (left) and Debby Gould (right), the 2019 Molly Todd Award Recipient.