The Molly Todd Award
Mary "Molly" Hart Todd was a powerful and effective leader not afraid to push the boundaries citizen advocacy in public policy. She was a frequent monitor at the state legislature on League issues (e.g., income tax, adequate school funding, water control laws, repeal of the death penalty), a delegate to the 1970 Tennessee Constitutional Convention, and held leadership positions in numerous organizations. She was also a plaintiff in the Baker v. Carr case that came before the Supreme Court regarding redistricting in 1962, which led to the "one person, one vote" standard for legislative reapportionment.
In 1995, the Nashville League established the annual Molly Todd Award. It is given in recognition of a member of the League who has followed in Molly Todd's footsteps, providing leadership and service to both the League and the voters of Nashville. And it identifies someone who shows the same bold spirit and optimism that Molly always demonstrated.
2020 | Clare Sullivan
2019 | Debby Gould
2018 | Madeline and Tony Garr
2017 | Hazel Thornton
2016 | Barbara Gay
2015 | Jo Singer
2014 | Diane DiIanni
2013 | Barbara Devaney
2012 | Pat Post
2011 | Sue Bredensteiner
2010 | Karen Weeks
2009 | Margie Parsley
2008 | Karen Edwards
2007 | Phil Schoggen
2006 | Mary Frances Lyle
2005 | Marian Ott
2004 | Berdelle Campbell
2003 | Dikkie Schoggen
2002 | JoAnn Bennett
2001 | Silvine Hudson
2000 | Brenda Wynn
1999 | Susan Gutow
1998 | Silvine Hudson
1997 | Sally Levine
1996 | Carole Bucy
1995 | Jane Eskind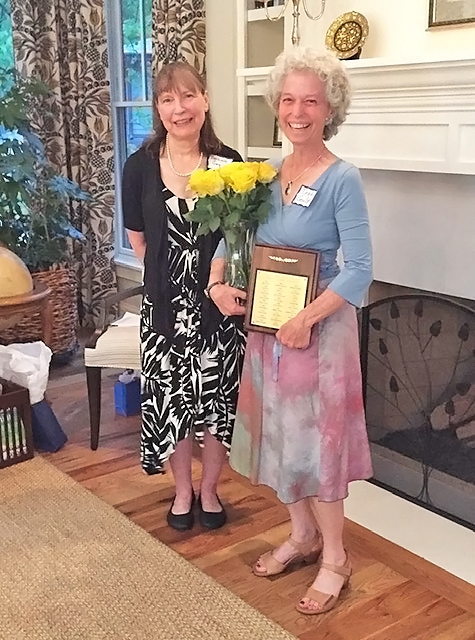 LWVN President Barbara Gay (left) and Debby Gould (right), the 2019 Molly Todd Award Recipient.
The History of Molly Todd
When I first joined the League, I had never heard of Molly Todd or of her work to push the boundaries of citizen advocacy in public policy. So, who exactly was she?
She was born in Brooklyn, NY in 1904 and graduated from Vassar College in 1925. Her first job was as a social worker in birth control clinics in New Jersey and in Kentucky. In 1939, she moved to Nashville with her husband, James Todd, and began her work as a volunteer. She took on a number of volunteer posts, including the presidency of the Tennessee Maternal Health Association and the Chair of the steering committee that created the Nashville Mental Health Center known as DeDe Wallace.
In 1948, she helped re-invigorate the League of Women Voters of Nashville (LWVN), which had lost momentum after the passage of the 19th Amendment and had become dormant. Under her leadership, the LWVN mobilized support for a host of public policy issues. She engaged the League in vigorous campaigns to develop government support to ease overcrowding in county schools, improve library services, establish a family service agency, and invest in child welfare programs. The League also published the city's first brochure on voter education, worked to abolish the poll tax, and engaged in efforts to consolidate city and county government services.
Todd was a charter member of the Tennessee Council on Human Relations, which was organized to confront the persistence of racial segregation following the 1954 Supreme Court Brown v. Board of Education decision, which ruled racial segregation in public schools as unconstitutional. She also participated in the lunch counter sit-ins, aided by her husband's quiet cooperation as an executive of Harvey's department store, a target of the protest.
Todd joined and usually held positions of leadership in an impressive number of organizations, and in every group, she sought an agenda dedicated to social and political advancement. In 1962, she became a plaintiff in the Baker v. Carr case that came before the Supreme Court. The decision of this case by the Supreme Court led to the "one person, one vote" standard for legislative reapportionment.